ABOUT
El Salvador Divers is a 5* PADI Dive Centre and is the oldest PADI dive school in El Salvador. We have been a member of PADI for over 20 years.
We can supply you with all your recreational diving needs, from your first experience with a PADI Discover Scuba Diving course, right up to PADI's first professional qualification, PADI DiveMaster.
For ongoing learning we offer a large selection of Adventure Dives and a number of Speciality Courses, so you can become a PADI Master Scuba Diver, the highest PADI recreational diver certification.
We also supply fun diving for certified divers with a variety of dive sites depending on your level of certification and experience.
Alongside the diving we can also supply you with any equipment you require from the basics of masks, fins and a snorkel right up to the latest in dive computers. A list of our suppliers can be found here.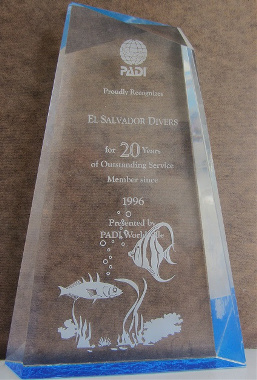 PADI DIVING COURSES
The Scuba Diving courses offered use PADI standards and are delivered by our team of PADI Open Water Scuba Instructors led by Mick O'Connor. Courses can be taken in either English or Spanish.
The courses are broken down into three sections; Knowledge Review, where you receive the manual and study independently at your own pace, before completing a final exam; Confined Water training, where you learn the dive skills in a pool or similar environment; Open Water training, where you put those skill into practice in the beautiful volcanic crater lake at Ilopango.
On completion you will receive your own PADI Positive Identification Card which is recognised worldwide.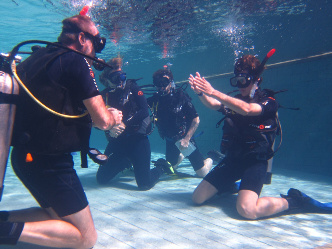 LONGER TRIPS
El Salvador Divers also organises trips to other dive sites in neighbouring countries. We have been to Roatan in Hondouras a number of times in the past. We are currently looking into trips to other nearby locations as well.
These trips are usually for long weekends and are thoroughly enjoyed by all who participate.
Other activities can be arranged through us with our partners in the local tourism business. These can include fishing, forest walks and discovering local historical sites.