El Salvador Divers offer these dive packages for those who either do not want to complete PADI training or who are already certified. Certified divers can be from any organisation as long as they have proof of certification with them. PADI divers only need to turn up with their name and date of birth for us to ascertain their level of training.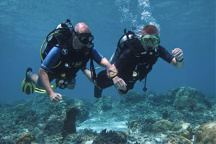 DSD participant with a PADI Instructor

Discover Scuba Diving
The PADI Discover Scuba Diving Programme is for anyone over the age of 10 years and be in reasonable physical health. This programme is designed for anyone who wants to experience the underwater environment but does not wish to complete the formal Scuba Diver or Open Water Diver course.
During this programme you will learn basic scuba diving skills and safety guidelines to explore the underwater world alongside a PADI professional.
If you choose these skills can be put towards a full Open Water Scuba Diver course.
This can be done in the pool or can also include an open water dive to a maximum of 12m.
Diving is FUN

Discover Local Diving
Discover Local Diving is for certified divers who are visiting El Salvador and wish to get the assistance of a local guide on the various dive sites El Salvador Divers use.
These are also referred to as 'Fun Dives' as opposed to 'Training Dives'.
We will arrange all equipment and transport to the dive site. A snack is supplied between dives, as we conduct at least two dives per trip.
Hovering
Review and Re-Activate
Scuba Review and Re-Activate are PADI refreshed courses for certified divers who just need to get a refresher after a long period of non diving.

This is completed in confined water and is usually completed just before an open water dive.
Basic dive skills such as buoyancy control, hovering, are reviewed as well as anything that the participant feel they need to practice.
The longer it has been since the previous dive the more the Scuba Review or Reactivate needs to be performed.
On completion of the PADI ReActivate programme you will be issued with a new PIC with the reactivation date shown.
Snorkelling

Skin Diving or Snorkelling
For those not wanting to venture deep below the water we can arrange snorkelling trips along side the dive trips.
Where the divers will do down to see what is in the deeper parts of the reefs the snorkellers stay on the surface and explore the marine life that inhabits the very shallow waters.
For those that have never been snorkelling before, or have not partaken in a long while, a PADI Skin Diver course is available.