Mick O'Connor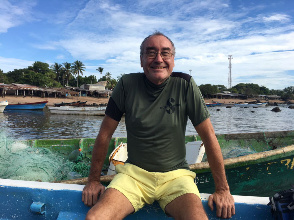 Name:
Mick O'Connor – 357582
Position:
Owner and Chief Instructor
Diving since:
 1982
Instructor level:
PADI Master Scuba Diver Trainer, EFR Instructor
Specialities:
 Altitude Diver, Deep Diver, Wreck Diver, Night Diver, Enriched Air Nitrox, Aware Fish Identification, Underwater Photographer, Underwater Navigator, Peak Performance Buoyancy, Emergency Oxygen Provider, Self-Reliant Diver.
Teaching Languages:
English Mick, an Englishman, successfully ran his own dive business in Sierra Leone and worked briefly in the Caribbean before ending up in El Salvador. Mick has recently taken over the ownership of El Salvador Divers. He has been diving in many locations worldwide and currently enjoying his new carreer as a dive instructor after spending nearly 40 years as a telecoms professional working in a variety of locations worldwide.
Name: 
Mariano Driote – 303262
Position:
 Instructor
Diving since:
Instructor level:
 PADI Open Water Scuba Instructor
Specialities:
Teaching Languages: 
Spanish / English
Name: 
Mario Guzman – 293802
Position:
 Chief PADI DiveMaster
Diving since:
Languages: 
Spanish, English
Name: 
Santiago
Position:
 Boat Captain – Ilopango
Skipper since:
Languages: 
Spanish